Manufacturing of completed water-soluble propolis through freeze dry technique for the first time in the industry
Low-molecular weight water-soluble propolis
01

Patent No. 0523746 : Method of manufacturing water-soluble propolis

Propolis is a fat soluble substance that does not dissolve well in water, making it difficult to be absorbed in the human body.
Absorption rate by the human body is increased by hydrolyzing propolis with our patented manufacturing technique.

Zero use of synthetic emulsifier
02

First freeze dry method in the industry (propolis)

Although the general drying method or liquid forms, they are in polymer form. By converting such polymer form (polyphenol) into into low molecular weight form (oligopolyphenol) through the technological capability of Bncare, it assists harmonious digestion and absorption, and minimizes destruction of ingredients in propolis that are beneficial to human body.
In order for propolis to be completely bound with cyclodextrine, a natural oligosaccharide, freeze drying is essential!

Even more outstanding antibacterial and anti-oxidation actions
Comparison of water solubility of propolis of our company with those of others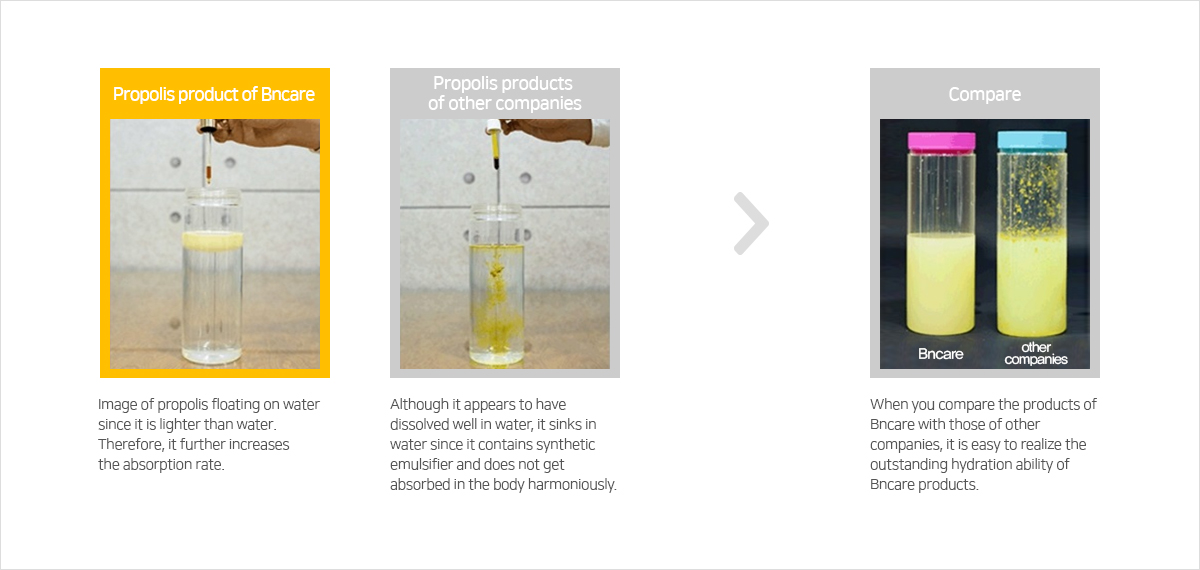 Use of beta-cyclodextrin,
which is a natural oligosaccharide, and coating
Removes the bitter taste of the existing propolis products and offer gentle taste and aroma!!
What is beta-cyclodextrin?
It is one of natural oligosaccharides and plays the role of a natural emulsifier.

* Emulsifier: Food additive used when mixing 2 liquids (used in milk, butter, mayonnaise and cosmetics, etc.)

Substance to increase the absorption rate by making the propolis molecule smaller by capturing (coating) the propolis molecule (particle) inside its circular shape.
By capturing fat-soluble substance as illustrated below through the patented technology of our company, water-solubility was increased markedly.
Effects
manufacturing processes
Beverage for relief of hangover
Patent application No.: 10–2016-0081322

Method of producing beverage for relief of hangover by using propolis
Absorption rate is increased by using highly water-soluble propolis powder of our company and the actions of propolis quickly lowers the concentration of alcohol in blood not only to protect liver tissues and cells but also flavonoid provides health enhancement effects through relieving of hangover and blood purification action.